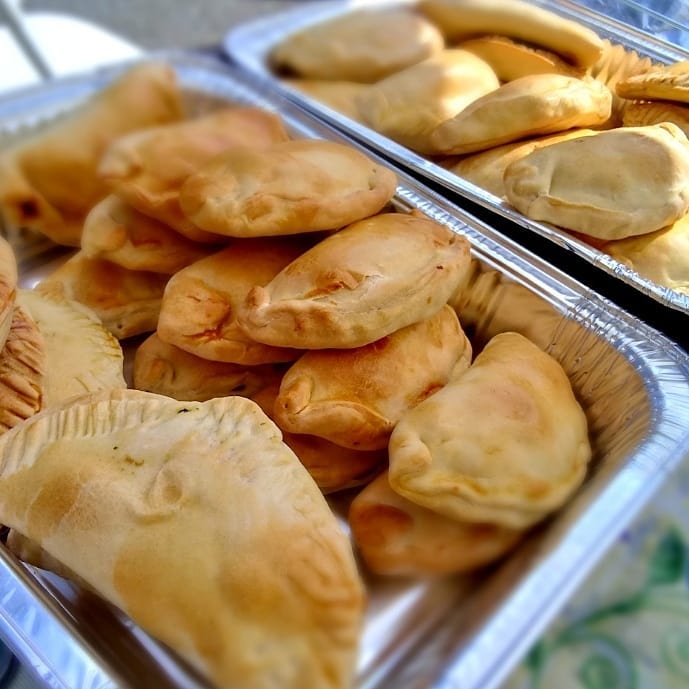 Good Mexican Girl
Vegan Empanadas available for free local delivery on Fridays from 4-7pm
Sale price
$5.00
Regular price
$45.00
We have vegan empanadas available for home delivery. During this time of self-quarantine, we only have our top three selections. Orders will be delivered on most Fridays between 4-7pm. Place order by 5pm on Thursdays . 
Please note that Shipping and Handling is added to the price. There is no pick up service available at this time only delivery. We offer free delivery on orders of $25+ (at least 1/2 dozen) delivered within a limited area. If your zip codes is in one of those areas, you'll get free delivery. See below for qualified zip codes. 
$10 fee for areas within 9-12 miles of 90041; $15 fee for areas 12-22 miles from delivery zone; $20-30 fee for areas 22.1 - 35 miles from delivery zone (free delivery to these areas on orders of $80 or more); Free delivery on orders of $25 or more to zip codes listed below.
This product is only available for local orders. Place your order via google form found at linktr.ee/goodmexicangirl You can mix and match from these 3. If you do not identify a preferred selection you'll get a sampler of the three empanadas. 
Soyrizo and Papas: Soy based sausage cooked with potatoes
Corn, Red Bell Pepper, and Sweet Potato
Mole and Mushrooms (we use almonds in our mole): The mole is a chocolate and chile based sauce.
Each dozen receives a small bottle of chimichurri. You can order more for $5 each. Orders of half a dozen get 6 individual packaged chimichurri. 
This product cannot be shipped. We can also cater for your special event or group meeting. We need at least 48 hours to prepare your order. 
Reheating Empanadas: 
Empanadas can keep in the refrigerator for up to a week and in the freezer in an air-locked sealed bag for up to three months. 
To reheat from the fridge do so in an oven (toaster oven) in 350 degrees for 12 minutes. If reheating after being in the freezer then let thaw at room temperature for about an hour and reheat in the oven for 12 minutes at 350 degrees. 
Please do check your email as we follow up with each order. If you do not see an email from us check your spam folder. 
Zip Codes that qualify for free delivery: 
90041, 
90042, 
91101, 
90033, 
91201, 
90032, 
90063, 
90031, 
90065, 
91030, 
91020, 
91046
, 91804, 
91802, 
91899, 
91896, 
91108, 
91012, 
91021, 
91801, 
90090, 
91393, 
91118, 
91224,
91205, 
91105, 
91206, 
91123, 
91031, 
91121, 
91125, 
91116, 
91185, 
91003, 
91001, 
91502,
91507, 
91526, 
91508, 
91503, 
91510, 
91214, 
91522, 
91007, 
91025, 
91011, 
91024, 
91104 & 
90026
---
Share this Product